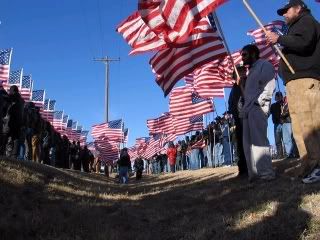 This is a shot from the PGR
website that a member took that day, not I. I LOVE this picture and the view given.
I would like to thank all of you for visiting my blog and commenting. I had heard about the Patriot Guard on the news before but never actually knew much about what they did and that was why I was so interested that day in driving by. It was the most amazing and touching thing seeing all the American Flags flying high and all the people there to honor a fallen soldier. I am so glad that I was able to do this and blog about it. When I read in the paper about the protest by WBC, words can't express how pissed off I was. I still don't understand how this church or anyone else for that matter could possibly have it in their heart to disrespect an American Soldier who died for us. I think maybe THEY are the ones who should be over there fighting. Anyways again I wanted to say thank you for all that you do and I also wanted to post the website for others to read as I know there are a lot of people who look at this blog and a few gals with husbands in the military. I tried finding a link for my last post but couldn't through Google but JoeRocketIII of the SouthEast Region left the link. Thank you Joe! Pappy- maybe you saw that maroon minivan driving taking pictures and thought "what a freak!" Well that was me. :)


Visit the Patriot Guard by clicking here
I visited myself after seeing Joe's comment and must say WOW. The message boards are awesome seeing all the planning that goes on ahead of time. You guys are so great!