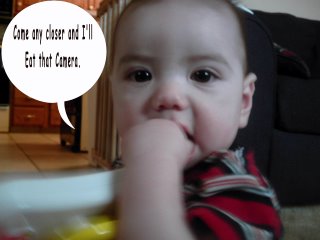 Things are 100 X's better here this morning. I started feeling better almost immediately after taking a shower yesterday morning and eating a bowl of Cream of Chicken soup at 9 AM. LOL I was up today at 6:30 AM and got Alex out the door at 7:15 and Dominic has already ate and been dressed and it's not even 8 AM yet. I even started cleaning the house. Today is going MUCH smoother. I have to say part of this day going much smoother can be credited to Wife Swap and SuperNanny. Everytime I watch those shows for some reason I'm up late cleaning my house that night or the next day changing things in my schedule so I can be the best wife ever with the cleanest house and the most well behaved kids doing nifty little charts for good behavior. It's almost like the shows are sending subliminal messages or something.

I still can't believe we got the stomach flu again in the house. I used to brag all the time how I did daycare yet my kids were never sick but as soon as Alex started school a year and a half ago that all changed! I can't even believe so many strains of different crap can exist. Even though Dominic did end up having the stomach flu instead of eating issues, we did go ahead and start him on the Pediasure. I hope there's coupons for this stuff because it is HIGHLY expensive. Our Ped's office gave a bunch of samples of the different kinds and a Dr's office my husband does service for gave him samples of something called Resurgex for us to give him. We're giving him 1 can a day of the Pediasure at breakfast since it is a "kid energy drink."

So anyways Damien is 8 months old now! I can't believe how fast this is going. He's just about to start crawling, the normal way. I've never had a kiddo crawl all over the place backwards. He'll crawl about 3 movements forward and then fall but he'll crawl backwards everywhere. He loves to pull up on things, mainly me. If I sit on the floor with him he'll grab onto my arm and body and pull up. Another favorite thing he likes to do is pull hair now. This always sucks. He thinks it's just the funniest thing seeing our faces in pain. He also loves to poke his fingers in our mouth and have us nibble on them. If we don't invite his little fingers with our mouth open, then he'll grab our lips and pull and scratch the crap out of them till he gets in there.