Sorry if these look kinda bad! I had to scan them off.
These are Damien's 9 Month Shots. It only took like 10 minutes to do these because he was so happy and having a great time. Wish it was that way with Dominic. He hates having pictures done.
Here's the cute little pucker face he loves to make.
I figured I'd have the school do his pictures since he always cries and throws a fit for me. They got him to do it but he was looking off to the side so now I really do need to take him back in to Walmart to get a good 3 year shot.
This is Alexzandra and her Principal Mr George on his 50th Birthday with her wearing her Over the Hill Shirt we made.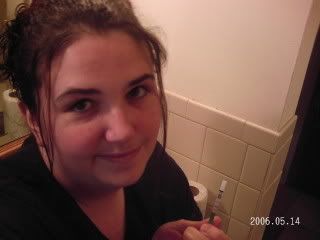 And last here's a pic of me holding another positive pregnancy test. I think I'm finally believing this is real.