We bought our Aiptek Digital like April 2005 and at first it worked great for what I wanted but then I noticed real quick when I had the pics printed, they turned out pretty crappy and there was always something blurred. I never used the zoom because you could barely recognize who the picture was it seemed, they just looked awful!! This weekend I finally found a nice Kodak and to me $250 was cheap and well worth it especially when we have a little girl on her way and I'd like some really nice pics of her! I had to throw a fit to get it but I usually get my way so wallah! He doesn't regret it either he's loving this new camera and the zoom clarity. He's taken a zillion pictures since yesterday.

Here's a few old camera pictures......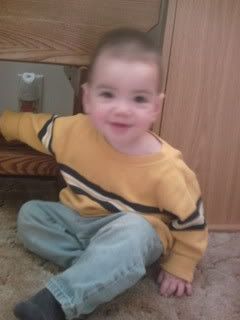 And the new camera pics.....


This weekend we tried to go Christmas Shopping for the kids. Boy was that NOT fun. I can't even believe Walmart, Target, and Kmart are buzzing with people buying already! It's not even after Thanksgiving yet. We got Dominic his train table and a trainset and for good measure got one for Damien too so they won't fight. LOL Alex would love this $100 new Barbie house but WHERE IS IT?? We looked everywhere. I have to find one. Damien is the worst to buy for because there's nothing we really don't have toy wise that he would need or really want. He loves trucks and cars so we're trying to think of something along those lines for his age group. Then as far as everyone else, we don't know what to do. I hate to buy things (except for my sister's kids) so we may just do gift cards for everyone. Sounds like a plan to me!
Other than that the weekend was spent at home doing tons of never-ending laundry, dishes, and other misc cleaning. I saved my food shopping at 9 PM after the kids went to bed last night as an escape route to get the hell away. Dominic broke his poopy on the toilet toy that's been sitting in our room for months. He ripped open the box for the rocket and broke it. Oh Dave was HOT and so was I but it was his fault for showing it to Dominic for motivation and not putting it back in the top of the closet. Other things that happened were Damien fell over on the Oak kitchen nook bench and cracked his head on it. Alex got Dominic in the mouth and he had a huge bloody lip. Damien walked right into the kitchen table and banged his head. Damien was jumping on Dominic's back and making him upset. Alex stepped on something and had alittle bit of blood coming out her foot and went on about it forever. There was so much crying/whining from the three of them I wanted to drown them out with my own crying. It was getting to be way too much.
At my trip to the store I decided to buy some diapers, size 1's. 7 weeks left, no diapers, no dresser, no baby bed, no clothes washed up. I am not ready at all. I have no idea where to put this girl or her things. Our house is so crammed. I am starting this week to wash her clothes and set the pack n play bassinet with that vibrator and junk up in our room. Dave's going to hunt down a cheap dresser probably while he's working. Since he's totally against me getting a new pink infant carseat I guess I'll buy the $50 "universal sex" Evenflo one at Target. Our's is 6 yrs old still looks brand new but the canopy is broke. I need to start getting a move on things so feel more at ease. Right now I'm thinking bringing a baby home is going to be more of a train wreck.