The kids have had a ball the past few days with all these new toys. I'm glad they're happy with them but they need to learn to play with one at a time and put them away. I've been picking up tons of hotwheel cars, trains, and barbie stuff nearly all day. Alex is pretty good about keeping her things in her room since she's in the basement but the boys drag their stuff all over.

I can't believe we're finally down to the final 10 days till she comes out! We're so behind on getting ready her. We got the carseat in yesterday which was comical. First off, this is the first infant seat we've ever bought. The first was bought for us for Alexzandra. It did great for the first 3 kids but then the canopy broke and I wanted a new one. Well this one we bought has all the bells and whistles but we just didn't know it. I was familiar with the LATCH system from Damien's convertible chair but this one actually as a leveler so that the base is level and the head of the baby doesn't tip forward. Finally after about 45 minutes we got the chair in. Afterwards I just laughed because our minivan has went from a pretty spacious 7 passenger vehicle to this.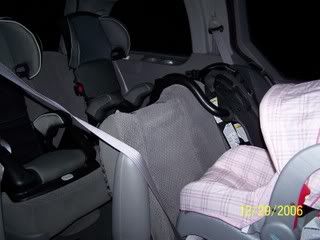 And if you're about 13 inches wide, I can stick someone between the two older ones in the back seat but your head may be squished.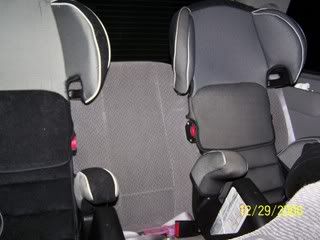 Next I have to wash these baby clothes I've been putting off week after week. My reason? I'll wash them as soon as I get all of our other clothes washed. Ummm.... well since laundry is neverending here, it's never been done. I'll get down to one load, we'll go to bed and then I'll have a new load to wash in the morning. No more procrastinating though, I'm doing this TODAY.