AHHHH HA!! I figured out where Dominic got What the Heck. Turns out as we were trying to keep the house super clean for our open house yesterday, we turned on some cartoons, Fairly Odd Parents on Nick to be exact and little Timmy Turner said it on this one episode right as I was sitting there. JUST LIKE DOM'S been saying it. Then on the same episode the Fairy Godparents and his real parents were traveling to Canada. The Fairies were all excited as Canada is the "best country on Earth!!" This explains why Alex was asking me the other day about Canada and where it was. Obviously it was a re-run and afterwards she wanted to know what kilometers and Mounties were also.

Speaking of Canada, I'm going to KILL Dave I swear. My Dad has always wanted to take a family vacation with us and the kids. Branson, Denver, OKC, something like that I would find ok but with Dave's job, he gets discounts through Royal Carribean for cruises so he brought up the idea of going on a family cruise to my Dad the other day. At first I sat at Dad's thinking we'd just drive to TX and go to Mexico but then Dave started mentioning the Alaskan cruise my father has been dying to go on. Uh huh. Dad thinks its a wonderful idea, even pulled out his stupid video tape from the cruise a few years back to show us the kid activities. Cruise: not a big deal. Flying from Wichita, Ks to Dallas,Texas, then flying to Vancouver, Canada. BIG FLIPPIN DEAL. So basically they're talking about these plans and I'm making excuses. "You know I don't fly" "I'm pregnant and I don't think I can do that." So then we'll do it after the baby they say but I'm not taking an infant on a cruise, sorry. We'll probably be discussing more on this later since my Dad comes over all the time. He's pretty excited at the thought.

In other news, Here's a preggo picture with Damien smiling thinking "OMG! I can't even fit my legs around you anymore you fat cow!"

And guess what? Not only did I get the house ready for our 3rd (and hopefully our final) open house, I actually did Mommy duties! I sorted my coupons: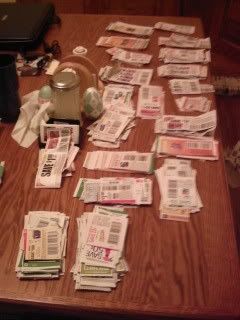 And then I organized them, I've been such a slacker lately.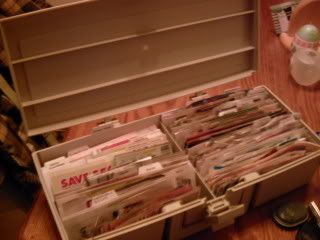 Then here's Damien being the boy he is. This Shake and Go Speedway is one of the best toys we ever bought, all though the cars eat tons of batteries. Yeah, just because you shake them, they still need battery power, they ARE NOT LIKE THOSE FLASHLIGHTS. Anyways, Damien loves it and understands now that the more you shake the car, the longer it goes on the track. Dominic's not too keen on sharing his toys yet so we're working on that.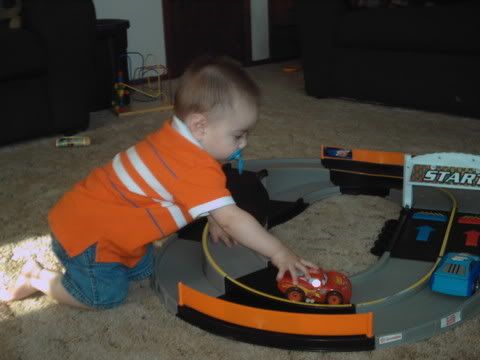 So that was our weekend in a nutshell. lol How was yours?